It seems that the warm weather is here to stay! There's no better time of year to spend your evenings outside on your patio or balcony. Whether you're enjoying an ice-cold beverage, reading your favorite book, or simply lounging, you want your outdoor space to feel comfortable! Now is the time that you can perfect your outdoor decor to enjoy your patio or balcony in the days to come. Get inspiration for decorating your patio or balcony with some of these tips!
Make it Cozy
If you're going to be sitting outside on your patio or balcony, you want it to be cozy! Bring a little bit of the inside feel to the outdoors. You may be wondering, "How can I do that?" However, by adding a few touches like an outdoor rug and comfortable, cushioned outdoor furniture, your patio will feel like a living room! Add a pop of color with some bright pillows or a colorful rug. This setup will have you spending your days and evenings lounging around in your new favorite spot!
Add Some Lights
Another popular trend to add to your porch or balcony is some sort of string lights. There a variety of different kinds that you can choose from, whether it's a plain string light, miniature lanterns, or more. Places like Target have unique outdoor lighting that can help to make your space feel warm and cozy. Additionally, this lighting will allow you to continue enjoying your porch or patio into the night!
Create a Tropical Oasis
Another way to add some flare to your balcony or patio is to add different kinds of plants. Transform your patio to a lush, green escape. Although it is a relatively small space, there are plenty of ways you can incorporate plants into your outdoor space. Perhaps you could get some plant hangers and hang ferns, or place planters over the railing and fill them with your favorite flowers. Another way to get creative with your plants is to get a tall, skinny shelf so that you can have space for more plants, but also have space for seating or whatever else you may want. Keep in mind, before you purchase plants, be sure that the orientation of your space provides the correct amount of sunlight for your plants can grow successfully!
Get Smart About Spacing
Although we are working with a smaller space than in your living room, there are many different ways you can get creative with the layout to make the most of your space. One unique idea is a balcony table! Balcony tables can hang over the ledge and act as a bar, functioning as a table but taking up less floor space. Some places to find balcony tables include Wayfair and Etsy. If you want to enjoy meals on your porch, but also want to be able to lounge comfortably, perhaps you could get a traditional table but ensure the chairs you purchase are multi-functional — perfect for eating a meal at the table, but also comfortable enough to lounge in!
There's just something about enjoying a book or having a glass of wine on your patio or balcony on a warm summer night. Make the most of your outdoor space with these tips for decorating your patio or balcony! How will you choose to make your space your own? For more decoration inspiration, check out our blogs Redecorate Your Apartment with 5 Simple Tricks and Spice Up Your Space: DIY Balcony Ideas on a Budget.
---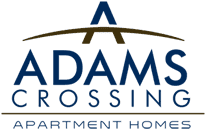 Adams Crossing provides residents with the top affordable luxury apartments in Waldorf. We love offering fun and useful information to our residents, helping them to enjoy all that apartment living in Charles County has to offer. Schedule a tour with one of our marketing professionals to see why we're a 2019 Top Rated apartment community through ApartmentRatings!