The New Year means a clean slate, so why not start with cleaning your apartment? Although cleaning can often seem like a hassle, if you start out the new year clean and organized, you will be off to a great start. Not to mention, the feeling after decluttering and reorganizing can be very rewarding! Not sure where to start? Here are some tips for cleaning and reorganizing your apartment to start out 2020 fresh.
Declutter Your Apartment
Before you begin cleaning and organizing, it is important to clean out what you don't need. We are all guilty of holding on to clothes we no longer wear and items we no longer use. If you haven't worn or used something within the past year, this is a good rule of thumb as to when you should get rid of it! When sorting through your things, separate them into three piles: things you will keep, trash, and give away. You can donate items to local consignment stores or places like Goodwill. Once you have decluttered, you will have made a major step towards the organization of your apartment. You will also feel a huge weight off your chest with fewer items taking up space in your apartment. Complete this task room by room to completely declutter your apartment.
Deep Clean Your Apartment
Now that the clutter is gone, it's time for a deep clean. Although this doesn't have to be done every week, it is refreshing to do every once in a while and will keep your apartment in tip-top shape. Begin with the worst part to clean: the toilet. Once the worst part is over, it's smooth sailing from there! Additionally, invest in an all-purpose cleaner that will assist in countertops, the stove, and all other surfaces. You will feel a sense of relief knowing that your apartment is cleaned for the New Year. Make it a habit to do this so that it doesn't seem like a large task to tackle. In 2020, cleaning will be a breeze if you start doing it at the beginning!
Keep the Momentum Going
Once you have the major cleaning tasks taken care of, there are plenty of ways to keep your apartment clean throughout the year. Instead of waiting long periods of time to clean, letting your belongings pile up, stay on top of it! If you have an extra few minutes in the day, wash the dishes, wipe down the counter, or vacuum the floor. In doing so, you're saving yourself the trouble in the future.
Stay On Top of Dishes and Laundry
It's easy to let dishes and dirty clothes pile up as we say to ourselves, "I'll do it later." However, that results in loads of laundry and stacks of dishes that make the task of cleaning seem even more impossible. Instead of letting your dirty belongings pile up this year, make it a goal to tackle them as soon as they become clutter. Once you're in the habit of washing that dish right after you use it, it will become second nature. Don't wait until your laundry is overflowing to wash it. Instead, wash it once your dirty clothes hamper is at a reasonable yet manageable level. This is an easy way to keep your apartment clutter-free.
Organize
You've decluttered, deep cleaned, and are hopefully maintaining the cleanliness of your apartment — now what? Now is a good time to reorganize your belongings. After all, you now have a clean slate to work with. Start with one space at a time and make little improvements that will have a lasting impact on your sanity. You'll feel like a new person with an organized space!
Purchase Drawer Organizers
We all have a junk drawer or a cabinet that is cluttered, but that's easy to fix! Purchase drawer organizers to transform your junk drawer into a drawer of organization. This can be used for bathroom drawers storing toiletries and kitchen drawers that hold kitchen supplies.
Utilize Wasted Space
In an apartment, it's important to maximize your storage space. Slide storage bins underneath beds and get over-the-door hangers to hang items like coats and towels. Additionally, you can use on-the-door racks for items in the pantry and the bathroom to create space in your cabinets. There are plenty of ways to get creative with storage to increase the amount of space in your closets and cabinets!
Contain It
When organizing your space, containers are your best friend. Whether you use baskets, bins, or any other organizer, you will feel instantly relieved knowing that all of your items have a designated spot. Store snacks and other food in plastic bins in the pantry to reduce countless opened bags and boxes. On shelves in the bathroom or living room, use baskets to store objects that could result in clutter like blankets, toiletries, magazines, or books. By giving all of your belongings a spot, it's easier to clean too! Hide clutter and keep your space clean.
You're now on the path to cleaning and reorganizing your apartment. Doing so at the start of the New Year will leave you refreshed and ready to take on 2020! Throughout the year, make it a habit to do a little bit of cleaning each day so that your apartment remains organized year-round!
---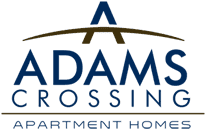 Adams Crossing provides residents with the top affordable luxury apartments in Charles County. We love offering fun and useful information to our residents, helping them to enjoy all that apartment living in Waldorf has to offer. Schedule a tour with one of our marketing professionals to see why we're a 2018 Top Rated apartment community through ApartmentRatings!