'Tis the season for Christmas trees, bright lights, stockings, and more! Some wait all year for decorating, and many consider it a tradition amongst their family. However, decorating doesn't always have to involve an 8-foot Christmas tree! There are plenty of ways to get creative when decorating your apartment for the holidays.
These beautiful hanging snowflakes are a great way to decorate without taking up floor space or being in the way. Additionally, you don't need anything to hang them except for string and tape! For a sleek and simple look, craft some snowflakes out of paper and string them around the apartment. You'll be in a winter wonderland in no time!
Fill the Apartment with Scent
The holiday season has plenty of signature scents. From crisp pine, to warm apple and cinnamon, there are plenty of ways to get your whole apartment to transform into a wooded forest or Mrs. Claus's kitchen. There are always abundant Christmas candles that you can find at places like Target and Bath & Body Works. On the other hand, you could also make your own potpourri! Check out this recipe from Rachel Shultz for a scent that is both delicious and homemade.
Christmas Lights
Christmas lights are no longer limited to simply Christmas trees and the outdoors! Hang them around your apartment for a warm, cozy feel. You can line your ceilings, outline your windows, or anywhere else you can think of. Who knows, maybe you'll keep the Christmas lights up year-round!
Doormats, Dishtowels, & More
Decorating your apartment for the holidays doesn't have to be extravagant. Simple ways that you can incorporate holiday decor into your home are right under your nose. Often times, once the holiday season rolls around, they offer typical household items that are holiday-themed in stores! Try buying dishtowels, doormats, and canvases or paintings that can be put around your house. You're likely already using all of these items, but now they will put you into the holiday spirit through all parts of your day!
Add Greenery
Although you may not have room in your apartment for a full-sized Christmas tree, that's not always necessary to make it feel like Christmas! Plenty of places sell smaller Christmas trees that save you space and money. Additionally, wreaths aren't confined to use on your front door! You can hang wreaths around the apartment as well. Or, outline your doorways or cabinets in garland. Soon enough, your apartment will be in holiday mode without taking up any additional floor space.
---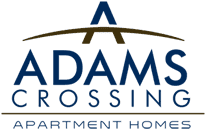 Adams Crossing provides residents with the top affordable luxury apartments in Charles County. We love offering fun and useful information to our residents, helping them to enjoy all that winter in Waldorf has to offer for the holidays. Schedule a tour with one of our marketing professionals to see why we're a 2018 Top Rated apartment community through ApartmentRatings!