The holidays have come and gone. Each year, children wait patiently to get the gifts they've been good all year for! Sometimes children forget the true meaning of the holiday season. It's easy for them to get wrapped up in the presents that they receive. While we must keep in mind that all reactions to gifts are natural kid reactions, it doesn't mean that we can't teach them gift etiquette! If your children received more gifts than they know what to do with, there may be a solution. In fact, there are many ways for you to get the most out of your children's presents.
Donate
Do your children's new toys seem to completely replace their existing toys? If so, it may be a good idea to go through all their toys with them. Before the holidays come, or after they've passed, donate toys that your child no longer uses to Goodwill or local shelters. Whatever they don't use or have moved on from, you can explain to them that some other little girl or boy may really enjoy playing with it. Then, you can take them with you to make the donation! This will help them to understand that it's not all about the number of gifts they receive and that giving gifts is just as rewarding as receiving them. Hopefully, this will help them to cherish the gifts they receive because they have cleaned out what they no longer need.
Put Them Away
So often, children receive so many toys for the holidays that they leave them scattered around the floor, playing with one toy for a few minutes before moving on to the next. On the other hand, it's all too familiar for a child to have an obsession with one toy, neglecting the rest. Then out of nowhere, they've moved onto the next toy without any warning! Instead of having all of the toys out for them to play with all at once, put some away for later! If you put some of their toys away for a couple of months, it will be like a brand new toy when you bring it out again. This strategy will keep your apartment a bit cleaner. Additionally, it will be like the holidays round 2 for your children in a few months!
Have a Re-Gifting Exchange
It's almost inevitable that your children will receive duplicate presents or be given a gift they already have. A fun solution for duplicate toys is to have a re-gifting exchange! Have some friends over, tell them to bring unused toys, and see if anything strikes your interest. You can also draw numbers to determine the order in which participants can select a gift from the re-gifting pile. Who knows, maybe you will find your child's new favorite toy without spending a dime! You could bring your children to this exchange. However, it may be easiest for it to just be moms and dads to avoid any potential drama.
The holidays can be a chaotic and overwhelming time because although children don't mean it, gifts become the main focus. Instead of getting frustrated with them, help them understand the value of giving and receiving gifts! Get the most out of your children's presents this year!
---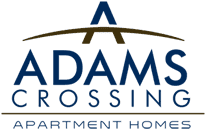 Adams Crossing provides residents with the top affordable luxury apartments in Waldorf. We love offering fun and useful information to our residents, helping them to enjoy all that apartment living in Charles County has to offer. Schedule a tour with one of our marketing professionals to see why we're a 2018 Top Rated apartment community through ApartmentRatings!