In the New Year, many people base their resolutions upon healthy eating and going to the gym more. Some may even give up sweets! However, if you have a sweet tooth, you know that this is nearly impossible. Don't cut yourself off from enjoying a sweet treat every now and then! With these healthy dessert recipes, you can eat healthier without feeling deprived.
This recipe for Peanut Butter Banana Nice Cream by Fit Foodie Finds has all the deliciousness of ice cream, without the guilt. Frozen bananas, all-natural peanut butter, unsweetened almond milk, and mini chocolate chips are the entirety of this recipe, making it quick and easy. If you're bananas start to get too ripe, simply slice them and put them in the freezer! When you're craving ice cream, you'll already have frozen bananas prepared.
These Almond Butter Blondies by Detoxinista are both Paleo and Vegan! Not only do they conform to a variety of diets, but they are buttery, chewy, and absolutely delicious. The almond butter and chia seeds pack this recipe with healthy fats and fiber, and won't leave you with a sugar crash or an empty stomach!
Don't let the name deceive you. This recipe for Paleo Sweet Potato Carrot Cake will be a hit, even among people who don't eat Paleo! Sweet potatoes are used as a substitute for flour, and the best part is, a serving of this guilt-free cake is only 159 calories. It's so delicious, you won't even know that it's healthy.
The delectable combination of peanut butter, coconut, and chocolate will leave you wanting more of these Healthy No-Bake Oatmeal Bars by Joy Food Sunshine. With just 7 ingredients, these oatmeal bars can be whipped up in just 10 minutes. Doubling as a dessert and as a snack, your kids won't be able to get enough — and neither will you!
Just because you want to eat healthier, doesn't mean you have to cut out all things sweet! With these healthy dessert recipes, you can have that dessert after dinner, without detracting from your health goals! The best part is, even your kids will love them too.
---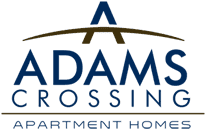 Adams Crossing provides residents with the top affordable luxury apartments in Waldorf. We love offering fun and useful information to our residents, helping them to enjoy all that apartment living in Charles County has to offer. Schedule a tour with one of our marketing professionals to see why we're a 2018 Top Rated apartment community through ApartmentRatings!