2020 might have been the longest, and debatably the worst, year in a while. Luckily, it's finally behind us! With 2021 rolling in, you've likely come up with a few resolutions. While it's easy to think of what you want to accomplish in the new year, the hard part is sticking with it — but not anymore! Check out these tips to help you stick to your New Year's resolution to make this year different than the rest.
Limit Your Resolutions
With the New Year, many people are quick to come up with multiple resolutions. However, that can get overwhelming! Not to mention, with too many ideas at hand, it can be difficult to stick with just one, let alone multiple. Think ahead of time about what you really want to change in your life, and focus on a few goals that can help you make that change.
Dream Big & Break it Down
No dream is too big. However, with that in mind, there need to be actionable steps that can go into achieving the dream. For instance, a common goal in the new year is to lose weight. That's a great goal, but you need to develop specific steps that can lead you down the path of weight loss. Don't feel discouraged about any of your goals. Simply come up with small steps you can take to get there!
Write it Down
Once you've discovered your resolution and small steps you can take to achieve it, write it down. Write it down once or a million times so that the idea sticks in your head. Once it's written down, you're more likely to hold yourself to it. Put it on sticky notes on your mirror, your laptop, or your refrigerator. Do whatever it is you have to do to remind yourself why you're making a change!
Share it with Someone
Another helpful tip that can help you stick with your New Year's resolution is to tell someone! Tell a friend or family member whatever it is you want to accomplish. In doing so, they can help to hold you accountable. Additionally, it will motivate you to keep working towards your goal because you won't want to let them down.
Realize Why it Might Be Difficult
Before you begin working towards your resolution, recognize why you might have trouble breaking the habit. Basically, you can make a list of pros and cons. The goal here is to understand why making the change is more appealing than simply staying where you are. For instance, many people have trouble overeating. While the food is delicious in the moment, it can potentially harm your health. With a list of pros and cons, you can help yourself understand why the change is necessary, and when you're faced with temptation, you'll remember why you resolved to make the change.
Understand That Change Takes Time
With all of these tips in mind, it's most important to understand that nothing happens overnight! While it's important to motivate yourself to stick with it, you can't be too hard on yourself. Keep in mind, they say it takes 21 days to form a new habit. If you have a couple of missteps along the way, get up, dust yourself off, and get back on track!
Have you identified your resolution yet? These tips can help you stick to your New Year's resolution so that you can have a happy and healthy 2021!
---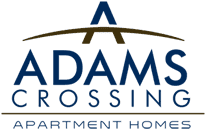 Adams Crossing provides residents with the top affordable luxury apartments in Waldorf. We love offering fun and useful information to our residents, helping them to enjoy all that apartment living in Charles County has to offer. Schedule a tour with one of our marketing professionals to see why we're a 2019 Top Rated apartment community through ApartmentRatings!