March 29th is National Mom & Pop Business Owner's Day! Everyone is taking a hit during these difficult times, and that is why buying local is important more important than ever. There are many reasons and ways to support local businesses on every other day of the year as well!
Why You Should Buy Local
Local businesses are essential to the economy. In fact, according to the Chamber of Commerce, as of 2018 there are 30.2 million small businesses operating in the United States, and making up 99.9% of all businesses. Small businesses contribute to the local economy in a number of ways. They provide employment opportunities within the community and help to stimulate the local economy as well. When you shop local, you are also keeping your tax dollars within the local economy.
Not only do local businesses benefit the local economy, but they also provide a sense of community and uniqueness to the area they're in. Take a walk down the main street of a town and discover unique boutiques, restaurants, and other businesses — often locally-owned. This draws more and more people to the community! Additionally, local business owners often get to know their customers, which fosters an even deeper sense of community and camaraderie.
How You Can Support Local Businesses
Although National Mom & Pop Business Owner's Day is March 29th, it is always important to support your local businesses. How can you support them during these times of uncertainty? Many small businesses such as restaurants are still offering food to go. Consider grabbing dinner to go or coffee to go at least one day a week to help your local restaurants and coffee shops. Since options are somewhat limited with social distancing in place, word of mouth is another way to spread the word about some of your favorite local businesses. Share their posts on social media and tell all of your friends about them. Once this all clears up, you can come together with your local community to raise up and support local businesses in-person. There are trying times ahead, but with the support of the community, small businesses can prevail!
Local Businesses to Support
We've compiled a list of local businesses that are providing takeout during this time period. Support local restaurants by purchasing their food to go!
Whether you share posts on social media, order food to go from a local restaurant, or order clothes online from a local boutique, you are helping to support local businesses in a time where so much uncertainty lies ahead. How will you make a difference? Learn more about local businesses here.
---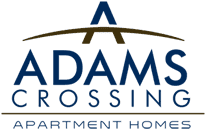 Adams Crossing provides residents with the top affordable luxury apartments in Waldorf. We love offering fun and useful information to our residents, helping them to enjoy all that apartment living in Charles County has to offer. Schedule a tour with one of our marketing professionals to see why we're a 2019 Top Rated apartment community through ApartmentRatings!