March is National Peanut Month! While we are all practicing social distancing, we likely have a lot of extra time on our hands. What better way to spend it than experimenting with new recipes? Since it is National Peanut Month, we've compiled some of the best recipes using peanuts for you to try.
This recipe for chocolate caramel peanut clusters by Let's Dish is hard to resist! The perfect combination of salty and sweet, this recipe is not only delicious but is also incredibly easy to make. For a fun variation, use milk chocolate and drizzle it with white or dark chocolate. The recipe is pretty flexible, so make it your own! Once it's completed, you'll have a delectable, gooey treat.
Another sweet and salty treat, this easy recipe for Sweet and Salty Granola by Super Healthy Kids is perfect for snacking. The delicious combination of peanuts, pretzels, chocolate chips, banana chips, and more make this recipe perfect for snacks or breakfast! Additionally, you can mix and match the ingredients you add to the recipe. Find your perfect granola!
For those who can never decide what candy they want to eat, with this recipe, you don't have to. This recipe for Monster Magic Cookie Bars by Crazy for Crust includes 7 layers of sweet and salty delight. Peanuts, pretzels, M&Ms, peanut butter chips, and chocolate chips are among just a few of the ingredients that make up this indulgent dessert. Additionally, there are a couple of variations you can do with the ingredients! Gather the children and have them help you create this tasty treat.
Who says peanuts are only for dessert? This delicious recipe for Chicken Satay with Peanut Sauce by Savory Tooth makes for a perfect lunch or dinner. Using a Thai-inspired peanut sauce, this recipe is sure to be a hit at your house! Upon completion, you will have mouthwatering chicken kabobs coated in a delicious peanut sauce.
If you find yourself looking for something to do while you are social distancing, why not give one of these recipes a try? Celebrate National Peanut Month with these recipes using peanuts. Maybe you'll find a new favorite sweet treat or go-to dinner dish! For more peanut recipes, click here.
---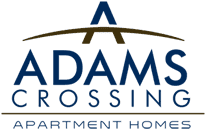 Adams Crossing provides residents with the top affordable luxury apartments in Waldorf. We love offering fun and useful information to our residents, helping them to enjoy all that apartment living in Charles County has to offer. Schedule a tour with one of our marketing professionals to see why we're a 2019 Top Rated apartment community through ApartmentRatings!