The holidays are in full swing, and we all know what that means: tons of candy canes! We can take our best shot at finishing them all, but we might get a little tired of that minty treat before long. If you have more candy canes than you know what to do with, why not use some in a baked good? Check out these recipes using candy canes so you can put the extras to good use!
Put a twist to the traditional rice krispie treat with this recipe by Mom Makes Joy. With just 5 ingredients, you'll create an ooey-gooey tasty treat! The combination of crunchy candy canes and sweet, white chocolate gives this recipe a delicious flavor. If you have extra candy cane crumbs, you can sprinkle them on top of your masterpiece!
Chocolate pudding, cream cheese, and of course, crunchy candy canes make this pie by Strawberry Blondie Kitchen absolutely mouthwatering. Not to mention, it is the perfect holiday dessert! Easy to make and delectable, this pie is sure to be a hit.
Looking to spice up your traditional chocolate chip cookies? These peppermint chocolate chip cookies by Lemons + Zest are sure to do the trick. Made with both dark chocolate chips and white chocolate chips, these cookies have a flavor that regular chocolate chip cookies simply can't match. Additionally, the crunch of candy canes gives it just the right amount of holiday touch! Even the kids can help you make these tasty cookies!
Beware! Once you start eating this white chocolate Oreo peppermint bark by Princess Pinky Girl, you won't be able to stop! With just 3 ingredients, you will have an indulgent treat that everyone will love. The combo of white chocolate, Oreos, and candy canes not only makes for the perfect holiday dessert, but it is also incredibly simple to make!
Don't toss out your extra striped candy treats! Instead, try making one of these delicious recipes using candy canes. Perfect for your holiday celebration or just to snack on throughout the week, no matter what you make, you're sure to enjoy!
---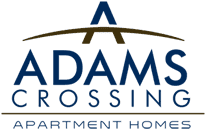 Adams Crossing provides residents with the top affordable luxury apartments in Waldorf. We love offering fun and useful information to our residents, helping them to enjoy all that apartment living in Charles County has to offer. Schedule a tour with one of our marketing professionals to see why we're a 2019 Top Rated apartment community through ApartmentRatings!