It's National Decorating Month! With all of this extra time on your hands, perhaps you could redecorate a room in your apartment. Just a few simple changes can completely transform your space! If you're feeling a little restless, we've compiled some tips for redecorating your apartment that you can do from the comfort of your home.
Get a New Rug
A rug can make or break a space. Without one, your apartment may feel a bit empty and incomplete. But a rug can make it feel much cozier and pull design aspects together! A light rug can also make your spacious apartment feel even larger. Try shopping online at stores like Target, Walmart, and World Market for inspiration.
Let There Be Light
Lighting can also dramatically impact your home environment. In fact, adding lamps and different types of lighting throughout your apartment can make it feel warm and cozy. Instead of relying on your overhead lighting when all you need is a gentle glow, purchase a few lamps for warmer-toned light.
Add Curtains
If you don't already have curtains in your apartment, they can truly transform the look of a space. Curtains can add a pop of color or a sense of elegance beyond the typical, simple white shades. Choose your curtains based on the color scheme within your apartment and whatever color you want to draw from.
Use Floating Shelves
Install floating shelves in your apartment to maximize space but also add flair. Floating shelves are useful in any room, whether it be the living room, bedroom, or even bathroom. They can double as storage space for items like books, but they can also hold plants and other pieces of decor. Floating shelves can be found online at places like Target and Home Depot.
Pillows, Pillows, and More Pillows
Whether on your bed or on the couch, pillows can assist in changing your color scheme or add an extra touch. If you have a neutral-colored bedspread or couch, a pop of color can be added in whatever pillows you use to decorate. The best part is, you can use multiple pillows! Pick a few colors you want to highlight, and find some pillows you think pull those colors out best. Shop online for throw pillows at places like Wayfair, Target, and Society6.
A few simple changes can add to the overall feel of your space, without having to completely re-do it! A couple of throw pillows, a fresh area rug, new lighting, or some curtains can be ordered online and sent directly to your home. Redecorate your apartment without leaving or spending a lot! Check out our blogs decorating your apartment for spring or 4 Tips to Decorating Your Patio or Balcony for more inspiration.
---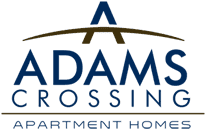 Adams Crossing provides residents with the top affordable luxury apartments in Waldorf. We love offering fun and useful information to our residents, helping them to enjoy all that apartment living in Charles County has to offer. Schedule a tour with one of our marketing professionals to see why we're a 2019 Top Rated apartment community through ApartmentRatings!