September is Self-Improvement Month! While it is always important to seek self-improvement, now is the time to reflect on your daily habits and how you can make small changes to lead a better lifestyle. If you aren't sure where to start, we've compiled some simple self-improvement tips that will promote a healthier and happier life!
Set Goals for Yourself
When it comes to self-improvement, one of the most important steps to take is to simply set goals. Think about exactly what it is you want to achieve, whether that be exercising more, reading more, or traveling more. Once you have these goals, write them down! Writing them down helps you not only to remember them, but it holds you to these goals. Next, break them down into actionable steps. This helps to give you mini-goals to tackle that will contribute to the completion of your overall goals so they're more likely to be achieved. Before hopping right into self-improvement, sit down, and plan out your goals!
Plan, but Learn to Adjust
Although planning out your goals is critical for self-improvement, it's important to recognize that things don't go as planned. While we can attempt to plan every step of our lives, not only will it not always go as planned, but then there is also no spontaneity! Many people's first reaction to a change in plans or something not working out is a negative emotion: stress, worry, anger, confusion. However, how we respond to changes in the plan is what makes life enjoyable and full of surprises. Learn to adapt when things don't go as planned, and learn to let it be! This will do numbers for your overall stress levels and your day to day life.
Cut Back on Screen Time
Something that we are all likely guilty of is mindlessly scrolling on our phones when we aren't sure what else to do. Perhaps you work on a computer all day, and if you're like many other people, you have the instinct to turn on the TV when you arrive home and not turn it off until it's time to go to bed. Even then, we get in bed and start scrolling on our phones! Rather than scrolling through your phone before bed, pick up a good book or do a face mask to relax. A healthy habit to implement is cutting back the time you spend in front of screens. Instead of watching TV after work, grab a drink with a friend, go for a walk, or start working toward one of those goals you identified! Little by little, you may notice a change in your overall mood!
Incorporate Exercise into Your Daily Routine
There are many other reasons to exercise other than simply losing weight. It can reduce your risk of heart disease, improve your mood, and improve your sleep, among many other benefits. Many of us consider exercising as hitting the gym for an hour a day. However, there are many other simple ways to stay active, that don't include a gym! Take the stairs in your building, or go for a short walk around the office during the day. Another tip is to park further away so that you have to walk wherever you're going. If you need some extra motivation, find a workout buddy! Whether it's a friend or family member, it's much easier when you have someone to hold you accountable. Also, exercise challenges on smartwatches like FitBits and Apple Watches can provide some friendly competition! For more inspiration, check out our blog containing at-home workouts.
Read Self-Improvement Books
One of the simplest ways to learn more about self-improvement techniques is through reading! After all, there are plenty of self-improvement books to choose from. While you might think this type of book is rather dry without a storyline, you'd be surprised what you may learn! Head to the local bookstore or browse the internet to discover the perfect book for your needs.
Even though we're halfway through Self-Improvement Month, there's still plenty of time to set goals and start implementing healthy habits. Finish out 2020 strong!
---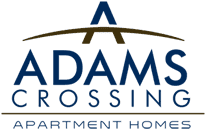 Adams Crossing provides residents with the top affordable luxury apartments in Waldorf. We love offering fun and useful information to our residents, helping them to enjoy all that apartment living in Charles County has to offer. Schedule a tour with one of our marketing professionals to see why we're a 2019 Top Rated apartment community through ApartmentRatings!