Did you know that heart disease is the leading cause of death in the United States? However, there are plenty of lifestyle changes you can make to improve your heart health and lower your risk of getting heart disease. February is American Heart Month, a month meant to raise awareness and encourage you and those around you to take steps to improve heart health. Celebrate American Heart Month, and continue with these habits in the future as well! Check out these tips for a healthy heart.
Get Active
An easy way to lower your risk of heart disease is to get moving! Studies show that if you are inactive, you are twice as likely to get heart disease. Being active will help improve heart health, stimulate blood flow, and lower blood pressure and cholesterol. If you feel that you don't have time to hit the gym, don't worry. The National Heart, Lung, and Blood Institute states that even just 10 minutes a few times a day can benefit you. If you sit at a desk all day, take a couple of 10 minute walks around the office to get your blood flowing. Or, if you're at home watching TV, try to incorporate some strength or abdominal exercises.
Motivational Tips
The thought of exercising can sometimes be overwhelming or stressful, but it doesn't have to be! If you don't want to do workouts at a gym or aren't sure where to start, there are plenty of other ways to get active. For example, you could bike ride on your local bike trail, or walk around a local nature trail. Being outdoors can make working out much more enjoyable. Another idea is to encourage a friend or family member to join you in your workouts! Holding each other accountable is a great way for both of you to improve your heart health through physical activity. Lastly, it's important to find something that you truly enjoy doing to make it seem less like exercising and more like fun! Do you enjoy golfing, tennis, or even dancing? Try to do more of what you love, to make exercising seem like less of a chore.
Improve Your Diet
A heart-healthy diet is one of the simplest ways to improve heart health and reduce the risk of heart disease. In fact, there are a lot of foods that can reduce a number of risk factors for heart disease. Heart-healthy foods include leafy greens, such as kale and spinach, which are high in vitamin K. This can help reduce blood pressure and improve arterial function, according to Healthline. Additionally, whole grains like brown rice and oats are high in fiber, which can reduce cholesterol. Fatty fish like salmon and tuna contain omega-3 fatty acids, which reduces heart disease factors. Lastly, berries and beans are two other groups of foods that can benefit your heart health! Incorporating any of these foods into your daily diet is a step towards a healthier heart.
How to Change Your Diet
Switching up your diet can seem difficult, but making slight changes with each meal is a great place to start. Incorporate a variety of foods that carry heart-healthy nutrients, instead of foods that don't bring any nutritional value. These include whole grains, a variety of fruits and veggies, low-fat dairy products, and skinless meat and fish. If you're hungry, instead of snacking on a salty bag of chips, go for a snack of fruits or vegetables. Additionally, if you eat dairy products, make the change to fat-free and low-fat products. If you're specifically trying to lower your cholesterol, try to cut back on the sodium. Cook foods without salt and consume foods with less sodium. These slight changes can go a long way, and once you get into the habit it will be second nature.
Two of the best ways to improve your heart health is through exercising and a healthy diet. It's easy to feel overwhelmed by lifestyle changes like these, but taking it one step at a time is an easy way to begin. For starters, go on a walk with a loved one, or cook a heart-healthy dinner together. These tips for a healthy heart are a way for you and your loved ones to change your habits now to lead a healthy life in the future.
---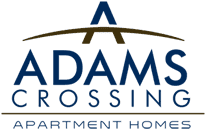 Adams Crossing provides residents with the top affordable luxury apartments in Waldorf. We love offering fun and useful information to our residents, helping them to enjoy all that apartment living in Charles County has to offer. Schedule a tour with one of our marketing professionals to see why we're a 2018 Top Rated apartment community through ApartmentRatings!