April is Stress Awareness Month! Given the current circumstances involving COVID-19 and social distancing, it is likely that you feel all sorts of emotions. We are living in stressful, uncertain times, unlike anything we've experienced in the past. With that being said, now more than ever it is important to take care of your mental health. Here are some tips on managing stress that will help you not only during this pandemic but for the rest of your life.
Get Plenty of Sleep
It's easy to get lost in a Netflix binge session right before bed, but studies show that lack of sleep can cause stress. It's important to get an adequate amount of sleep for plenty of reasons. However, if you're looking to reduce stress, getting more sleep can be a simple fix. Ensure that your bedroom is a place of relaxation where you can escape the stresses of everyday life. Try to go to bed around the same time every night so that your body clock gets used to a regular bedtime.
Exercise
Not only is exercising good for your physical health but also your mental health. When you exercise, your body releases endorphins, which in turn reduces stress. Additionally, studies have found that exercise not only reduces stress, but it improves the ability to sleep, stabilizes mood, and improves self-esteem. You don't have to spend hours in a gym to experience positive effects either. Even going for a walk around your neighborhood is a good way to take a mental break and get your blood pumping.
Talk to People
One of the most important ways we can reduce our stress is by talking to a friend or family member. Although we can't all physically be together at this point in time, we live in a world connected through technology. Now with more time on our hands than ever, you have time to call up a good friend or have a video call with all of your family members. Times right now are stressful, but it will help to talk about what you're going through with the people closest to you.
Journaling
Although very simple, journaling can positively impact your stress levels in a number of ways. Keeping a journal of your thoughts, emotions, or even to-do lists are a good way to view all of your thoughts on paper. This can help you to release emotions and organize your thoughts. In fact, there are a variety of different journaling types that can help to reduce stress. Often times, people will keep gratitude journals, in which they write about a few things that they are grateful for each day. This is helpful in that you can look back and see the simple things that brought you joy in a day. Another helpful journal tactic is a bullet journal. Bullet journals allow you to create personal lists, goals, and random topics to declutter your thoughts. Of course, simply recording your thoughts and emotions is a good way to release your stress.
Although everyone handles stress differently, there are many helpful ways you can work on managing stress — discover what works best for you! Whether you go for a brisk walk or jot down your worries in a journal, we hope that our tips for managing stress are helpful. During these uncertain times, take some time to care for your mental health.
---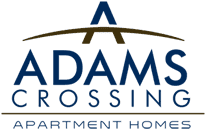 Adams Crossing provides residents with the top affordable luxury apartments in Waldorf. We love offering fun and useful information to our residents, helping them to enjoy all that apartment living in Charles County has to offer. Schedule a tour with one of our marketing professionals to see why we're a 2019 Top Rated apartment community through ApartmentRatings!