August 24th is National Waffle Day! There's nothing better than a fluffy waffle on a Sunday morning. However, who says you can't enjoy a delectable breakfast any day of the week? Start the week out strong on Monday with one of these tasty waffle recipes — the whole family will love it!
Perhaps you've tried churros, the delightful, cinnamon, and sugar-covered dessert, but have you ever tried churro waffles? Kick it up a notch with this recipe by Chica Chocolatina, and combine the flavor of these two delicious treats into one yummy breakfast. You won't be able to get enough of this recipe's mouthwatering flavor and fluffy texture.
French toast or waffles? Why not both? That's right, with this recipe for Cinnamon Sugar French Toast Waffles by Savory Nothings, you don't have to make the choice. Easy to make and absolutely appetizing, in just 30 minutes you'll have a tasty breakfast to enjoy. Dip the crispy waffles into a sweet maple frosting dip for an added treat. If you have a sweet tooth, you'll want to give this recipe a try!
Looking for a breakfast that's a little more on the savory side? Check out this recipe for Loaded Egg Bacon Cheese Waffles by Julie's Eats and Treats! Mix in crispy bacon crumbs and eggs into the waffle mix for a savory twist. Then, top it off with some warm syrup for the perfect combination of savory and sweet!
For those of you waiting for fall, perhaps this recipe for Pumpkin Spice Waffles by Life Made Simple will hold you over for the time being. Made with pumpkin puree, the result is a moist, dense waffle. Not to mention, flavors of cinnamon and pumpkin make these waffles incredibly enticing! You don't have to wait for fall to hit before you start indulging in pumpkin spice flavored foods; National Waffle Day is your chance!
Indulge in this recipe for Fudge Waffles by Handle the Heat. Who says you can't have dessert for breakfast? Rich, fudge flavor topped with ice cream for some extra sweetness, with this recipe, you'll start off the day on the right foot. These waffles are perfect for special occasions like birthdays, or just your typical Monday if you're craving something extra delicious for breakfast!
Celebrate National Waffle Day with one of these tasty waffle recipes. Of course, these waffles are tasty any day of the year! Have a tasty Sunday brunch, or start off a weekday with a delectable breakfast. No matter when you make them, you're sure to enjoy! Looking to add a little more flavor to your breakfast? Check out our blog to discover some tasty recipes using eggs.
---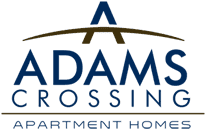 Adams Crossing provides residents with the top affordable luxury apartments in Waldorf. We love offering fun and useful information to our residents, helping them to enjoy all that apartment living in Charles County has to offer. Schedule a tour with one of our marketing professionals to see why we're a 2019 Top Rated apartment community through ApartmentRatings!