Now that the hustle and bustle of the holiday season has ended, we are now left with just the cold weather. Winter is in full swing, and you know what that means — there's no better time to bundle up on the sofa with a blanket. Not only do you want to wrap yourself up in comfy clothes, but you're also craving comfort food! With this in mind, what's better than a delicious, warm winter recipe? We've gathered some of the tastiest recipes that are perfect for warming up on a chilly winter evening.
Feeling a little chilly? One spoonful of this Creamy Crack Chicken Soup by Diethood is the cure to your winter blues. Flavors of bacon, chicken, cheese, spinach, and ranch dressing come together in this delectable dish. Additionally, it only takes 30 minutes to make! You'll want to go back for seconds of this tasty soup.
This delicious Scalloped Chicken Casserole by Taste of Home is the perfect comfort food for a weeknight dinner. Not to mention, it's rather versatile! Use any meat or vegetable you'd like to make the dish perfect for you and your family. Creamy, flavorful, and delicious, this recipe is sure to be a hit.
This recipe for Butternut Squash and Black Bean Enchilada Skillet by Ambitious Kitchen is not only healthy but absolutely delicious! Flavors of butternut squash, garlic, cumin, and chili pepper come together to make this dish a rich taste. In just 30 minutes, you'll have a cheesy, appetizing dish.
Nothing says a home-cooked meal like a pasta dish. This Pumpkin Pasta in Parmesan Garlic Cream Sauce by Family Style Food is sure to hit the spot when you're craving something rich! A delectable, thyme-infused garlic sauce gives this dish immaculate flavor. It's time to indulge in a lovely pasta dinner!
There's nothing quite like a bowl of chili on a cold winter night. This recipe for White Chicken Chili by The Recipe Rebel is the perfect way to warm up! Thick, creamy, and scrumptious, you won't be able to get enough of this dish. Additionally, if you have leftovers, they can be frozen and eaten later!
Whether you're craving a warm bowl of soup or chili, or want to enjoy a tasty casserole, give one of these winter recipes a try!
---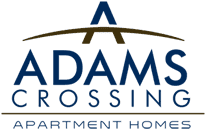 Adams Crossing provides residents with the top affordable luxury apartments in Waldorf. We love offering fun and useful information to our residents, helping them to enjoy all that apartment living in Charles County has to offer. Schedule a tour with one of our marketing professionals to see why we're a 2019 Top Rated apartment community through ApartmentRatings!