It's that time of year again, and we all know there are plenty of ways to get into the holiday spirit. Whether your tradition is to bake cookies or watch holiday movies, it's always a fun and exciting time! However, sometimes the best way to get in the spirit is by exploring all the Christmas lights around town. Find out where you can see the best Christmas lights near Waldorf!
From now until January 1, head to Watkins Regional Park for the Festival of Lights. This beautiful display of lights allows you to remain in the warmth and comfort of your car as you drive through the magic. Daily from 5 pm to 9:30 pm, surround yourself with friends, family, and 2.5 million lights throughout the park. Additionally, they have a 54-foot musical tree! Tickets for cars are $10, but if you order online in advance, you can get them for $8. They also allow buses, vans, or limos, and have a multi-day pass for those who just can't get enough. Get your tickets today!
Just up the road in Wheaton, head to the Garden of Lights at Brookside Gardens! Walk through the twists and turns of magical lights on trees, fountains and even figures of animals and flowers! Warm up at the Conservatory, where you can see model trains and a wintry landscape. Once you've explored the winter wonderland, head to the Visitor Center for hot cocoa and musical performances. Additionally, they will have hot soups, sandwiches, and beverages for sale for cash only. Keep in mind, visiting the gardens on a weekday can help to lower your wait time. Tickets are $25 per car on Sunday through Thursday, and $30 on Fridays and Saturdays. Get your tickets today for a magical night in the gardens!
Bundle up as you walk through the North Pole at Willow Oak Flower & Herb Farm! Located in Severn, Maryland, it's about an hour trip up the road and you'll find yourself in a winter wonderland. Explore trails with lighted Christmas scenes, or visit Polar Bear Central. To top off the night, visit Santa in the Garden Cabin! Make your way through garden flowers and beautiful lights to find yourself at the North Pole Palace. With new lights added every year, every turn is a surprise at the North Pole Lights Walk. Tickets are $5 for children and $7 for adults.
Although it is a bit further from Waldorf in Baltimore, Miracle on 34th Street is worth the drive. The entire street comes together to create an extravagant display of beautiful Christmas lights! With a hubcap Christmas tree, Big Red Lighted Crab, and overhead trains, you've never seen anything like it. Additionally, the street has been recognized by the Travel Channel, Home and Garden, and more! The lights are on every night from 5 pm to 11 pm, except for Christmas and New Year's Eve. People travel from far and wide to get a taste of Miracle on 34th Street, and you should too!
There are plenty of places to see Christmas lights near Waldorf, each a little different but none less beautiful than the other! How will you get in the spirit of the season?
---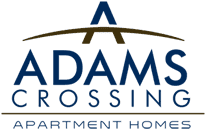 Adams Crossing provides residents with the top affordable luxury apartments in Charles County. We love offering fun and useful information to our residents, helping them to enjoy all that winter in Waldorf has to offer for the holidays. Schedule a tour with one of our marketing professionals to see why we're a 2018 Top Rated apartment community through ApartmentRatings!