Given the recent circumstances, many of us have had to transform our homes to our offices. Have you mastered the "work from home" life? If it's not something you are used to doing on a daily basis, it can be a difficult task to master. Not only can it be difficult to adjust your work to remote work, but it can be difficult to feel productive in an environment in which you are also expected to relax. Luckily, we have compiled some tips for working from home so that you can be productive, even if it is at the kitchen table.
Designate Work Hours
Maybe you typically work 9-5 or 8-4. No matter what your typical workday hours are if you were to go into the office, be sure to stick to that schedule at home. It can be easy to mix work with your home life when you're at home. This can make it difficult to stop checking email or doing small tasks after work hours. Of course, if it's something urgent that you need to handle, you can take care of it. However, be sure to set specific hours and stick to them. Shut the laptop at 5, so that you can keep a healthy work-life balance and spend some time for yourself and with your family.
Designate a Workspace
Not everyone is equipped with a home office. With that being said, many of us have to work with what we have. It's important to designate a space for work! When you are in your workspace, know that it is for work, and it will feel like a more productive environment. Additionally, if you are working at your kitchen table or in your living room, be sure to pack up your work at the end of the day. This will help to keep this space double as work and home, depending on the time of day. Even if it is at the end of your kitchen table, set it up with all the supplies you might need. A clean area with lots of natural light will make for the best workspace.
Get Ready for Work
While you don't have to dress business casual, it is still important to change out of your pajamas! It is tempting to roll out of bed and open your laptop in the comfort of sweatpants. However, getting up, getting ready, and eating breakfast helps you keep a routine. It also helps to get you motivated and ready for the day, rather than sluggish and lazy!
Have Transitions "To" and "From" Work
If you typically go into an office, you have your commute. Perhaps on this commute, you listen to a podcast or music or chat on the phone with a loved one. This time helps us get ready for the day, and at the end of the day, helps us unwind. If this is a time that you cherish, incorporate time before and after work where you can do something relaxing like this. Listen to music, or sit with a pet or a family member. Not only will this help you de-stress, but it can help you keep some sort of routine.
Limit Distractions
Limiting distractions is easier said than done, especially when you're working from home. It takes a lot of motivation to stay 100% focused on work when you're surrounded by children and household duties. While working from home allows you to throw in a load of laundry or clean up for a bit, try to limit yourself. To combat this, set timers for each of your breaks! This will give you the time you need to revitalize, without letting you waste the day away. For more information, check out our blog Ways to Entertain Your Children When Stuck at Home.
Talk to Your Coworkers
A typical day at the office involves social interaction. Just because you're at home, doesn't mean you shouldn't keep this up. Check in with your coworkers if you need clarification on work, or even just to say hello! The key to successfully working from home is communication. If you have a question, be sure to give a coworker a call. Not only will this help work go smoothly, but it gives you both a sense of normalcy.
Working from home can be a tough transition. It's important to have a work-life balance, and when you work where you live, this can seem difficult to achieve. However, with these tips, you can master the work from home lifestyle!
---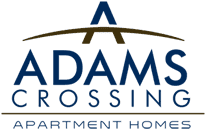 Adams Crossing provides residents with the top affordable luxury apartments in Waldorf. We love offering fun and useful information to our residents, helping them to enjoy all that apartment living in Charles County has to offer. Schedule a tour with one of our marketing professionals to see why we're a 2019 Top Rated apartment community through ApartmentRatings!